Non-binary artist Bizarrefae releases debut EP & continues to develop the conversation around gender identity and a gender-fluid society, using the voice they've been given to encourage others to use theirs.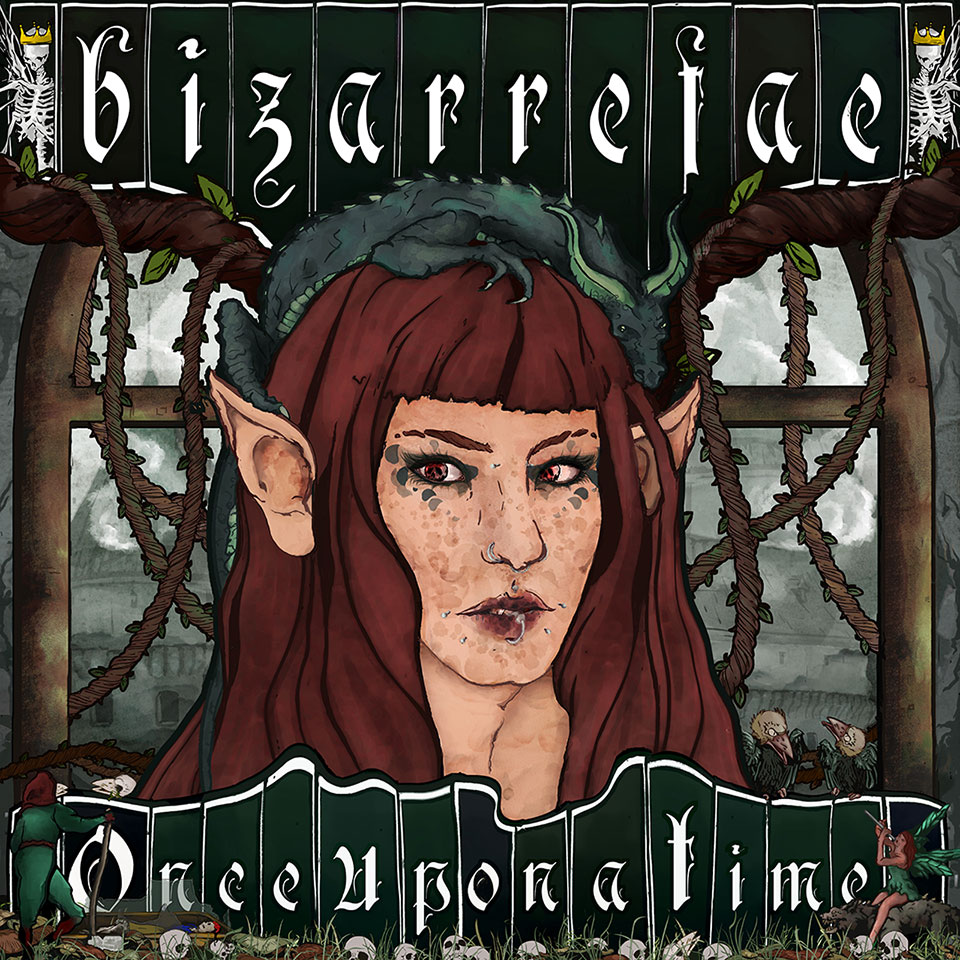 – Release Date: 9th Sept –
Live Dates supporting Delilah Bon
Having emerged from an isolated existence during lockdown to release the singles Dwarfed and Happy [Mirtazapine], the enigmatic Hull based non-binary artist Bizarrefae releases their debut EP Once Upon A Time while preparing to tour the UK supporting brat-punk 'riot grrrl' Delilah Bon.
Once Upon A Time is the culmination of various projects Bizarrefae has been working on in recent years and sees them exploring various styles and genres, with production duties skilfully handled by Hull's 'King of Electro' Endoflevelbaddie.
Channelling their explorations into the struggles encountered by non-binary people and how they're perceived within society, the EP's opening track Hiss Hiss takes on the more personal aspect of relationship breakdown and the polarities of emotion that come with the fallout and resulting miscommunications. Next up is Pesky Pixie – a heartfelt response to being catcalled by men in the street and the defiant 'NO' that so many wish to scream yet struggle to speak. Third track Run deals with feelings of 'fight or flight' felt when confronting issues of conformity within society that are presented to us. Next up debut single Dwarfed is an exposé of the tropes within the fairy-tale genre that romanticise abusive behaviour, gender stereotypes & co-dependency to easily influenced young minds, while the EP's closing track Sequoia is a coming of age story as told through the eyes of the adult who wrote it. On it, the future-self reaches back in time to soothe a bruised & broken inner-child, assuring them of the life-decisions they're about to make. The EP's release is very close to Bizarrefae's heart who explains that "it took over two years to make, from screaming at my phone in an attic, to screaming in the studio & on stage. It's surreal to realise how much I've progressed lyrically & mentally since lockdown".
Raised by a musical mother who encouraged them to sing dance & make as much noise as they could to make themselves happy, the person behind Bizarrefae, Andromeda cites Alanis Morissette, Kimya Dawson, SayWeCanFly, Zheani, Van Gogh & Avril Lavigne as influences.
Always drawn towards music that comes from the heart, they look to write about their deepest fears & brightest hopes in their own compositions, pouring every ounce of emotion that was 'too strong to feel', into the words in their songs. Having formed Hull band C.O.N.S.P.I.R.A.C.Y, with likeminded spirits, where they lyrically tackled what it meant to be human in the modern world, it was when Warren Records presented the opportunity to get involved in the VENN 21 collaborative youth project that they started working with producers Endoflevelbaddie on realising Bizarrefae's music.
With the release of the EP Once Upon a Time, the artist feels they've come a long way in deciphering the Bizarrefae sound & now looks forward to the next stage in their musical journey, experimenting with new sounds while continuing to develop the conversation around gender identity and a non-binary society, using the voice they've been given to encourage the entire world to use theirs. Be sure to follow on their social media as the story continues…