The UK Northern collective release their debut album – a collection of works inspired by their Muslim, Christian & Humanist ideologies, that blend electronica, Sufi singing & Arabic instrumental virtuosity.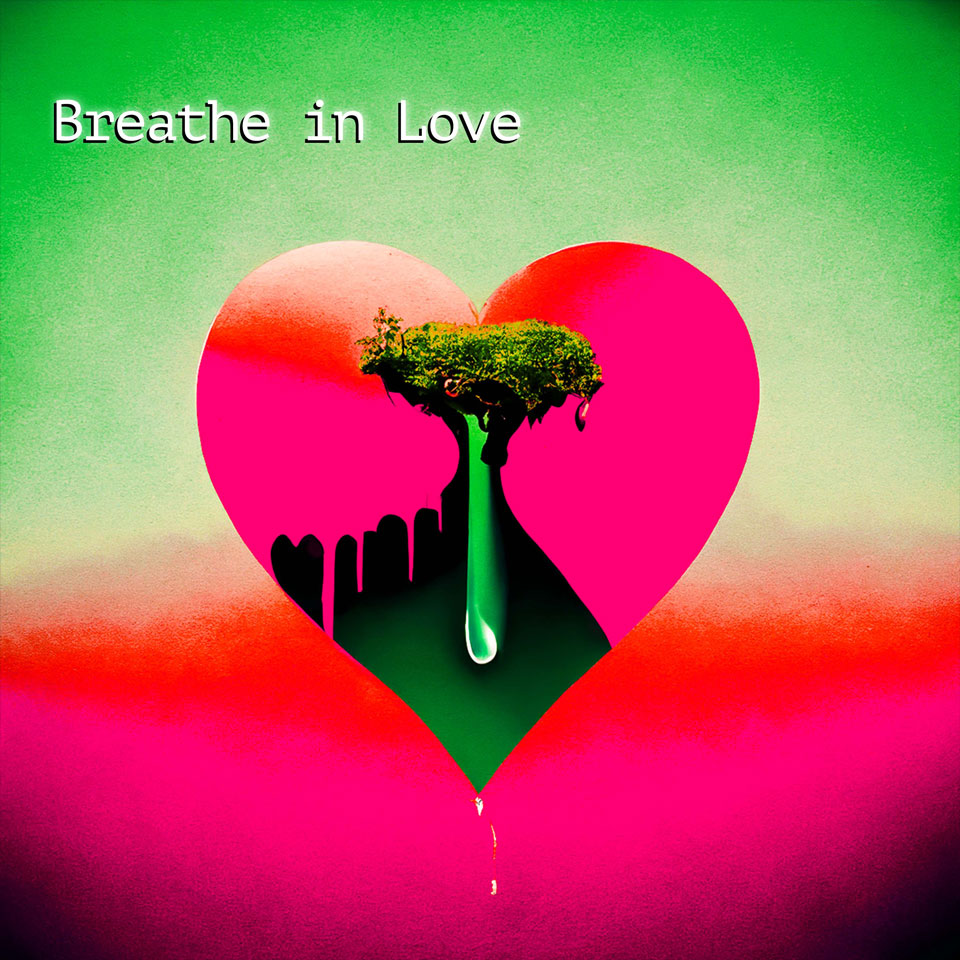 – Impact date: 1st Sept –
Format: Digital Album
Label: CPR
Genre: World Music, Electronica, Traditional
"So many beautiful elements" BBC Introducing
"Beautiful music with spiritual vocals" – DJ Ritu / Resonance FM
Having received support for their music on Resonance FM, BBC Introducing & other media, the Manchester, Sheffield & Doncaster world music collective Electric Sufi release their debut album Breathe In Love – a collection of works inspired by their Muslim, Christian & Humanist ideologies, that blend electronica, Sufi singing & Arabic instrumental virtuosity, while aiming to promote engagement with climate change issues, drawing traditions together rather than pushing them apart.
The background & meaning behind Electric Sufi's songs is primarily based around Sufi music, where it's traditional to rework existing words, phrases, poems & songs.  Many of these have very ancient roots & it's not always easy to distinguish between what is ancient & traditional from more recent writing. Electric Sufi continue this tradition, reworking texts from various sources & histories, using ancient & more recent Urdu poetry alongside the work of 13th Century Sufi mystic Rumi in Persian. The album also draws from some ancient Christian sources. In each case these sources are reworked into new versions, mixing electronica with ancient & tradition with cutting edge to create something powerful & different.
There's a track by track description of each piece at the end of this document but meanwhile a bit about the personalities that make up this most interesting of outfits… Electric Sufi are Sheffield based Professor of Music & Sound Archaeologist at Huddersfield University Rupert Till, Manchester based singer-songwriter & environmental activist Sarah Yaseen plus Doncaster based multi-instrumentalist / University lecturer Mina Mikhael Salama.
Rupert has produced ambient dance, chillout & electronic music under the moniker Professor Chill including the 2018 album Dub Archaeology. He's also written the book Pop Cult which delves into the mysteries of music & spirituality, participated in the BBC TV series Civilisations, plus written articles in The Quietus, Huffington Post & New Scientist. His research projects cover various subjects ranging from 'The influences of Religion on British Club Culture & Electronic Dance music' to 'Sound Archaeology, Acoustics & Cave Art'.
Sarah, whose family roots are in Kashmir, is known in world music circles for singing in UK Womad favourites Rafiki Jazz & Danish all-woman ensemble Radiant Arcadia. In Electric Sufi she sings in Urdu, Punjabi, Persian, Latin & English – & by doing so, draws upon a wide range of cultural influences. Inspired by Qawwali (Islamic devotional singing from India) & Ghazals (Arabic poetry), she has one foot firmly placed in a contemporary multicultural world & the other in the ancient lyrical & musical traditions on which she draws.
Mina, a Coptic Christian from Alexandria, Egypt, came to the UK in 2002, having been a soloist in the Cairo Opera. He has since performed at WOMAD, Edinburgh Festival, The Southbank, London as well as Cardiff, Leicester, Manchester & beyond. Along with Rupert, Mina has also contributed to the BBC TV series Civilisations where he demonstrated a 30,000-year-old Isturitz Vulture bone flute. On an international level, Mina has contributed to the music score on Disney's Aladdin, directed by Guy Richie & starring Will Smith, Mena Massoud & Naomi Scott.
The trio brings much collectively & individually to the Electric Sufi sound, resulting in a rich tapestry of cultural & musical layers of influence. Their album Breathe In Love is a wonderful introduction to this enchanted world & their message of hope.
Track by track… [language]
Track 1, Love You But I'm Hurting [English] touches on the central theme of Electric Sufi's message of Climate Change Awareness – Humanity's relationship with the planet & the pain the Earth's climate is suffering due to our activities. 'Love you but I'm hurting, can't you feel my pain' sings Sarah Yaseen illustrating the willingness of nature to show us the way in adopting good practice.
[ Sarah: voice | Mina – Nailute | Rupert – electric piano, piano, electronics, production ]
Track 2, The Return [Farsi] is based on the poem To Him Is Our Return by 13th Century Persian poet Rumi & talks about the link between the Earth, plants, animals & people. The verses describe the descent of the spirit into matter & its re-ascendance – not in terms of reincarnation or biological evolution but rather from an original & different metaphysical viewpoint.
[ Sarah voice | Mina – voice, Nay, Isturitz Vulture Bone Flute (Replica of 30,000 BC instrument) | Rupert – piano, electronics, production ]
Track 3, Destiny [Urdu] was originally performed by famous Sufi singer Mehdi Hassan & written by the Sufi Poet Qateel Shifai who died in 2001. As with many Sufi songs it points out the significance of love & destiny to humanity, nature & the divine. This reinterpretation by Electric Sufi retains the original words while re-imagining the melody & musical arrangement.
[ Sarah – voice, Mina – Qanun, Nay; Rupert – electronics, production ]
Track 4, Breathe In Love [English] is based on a mindfulness exercise from the Yogic tradition but also reflects the spiritual concept of the 'breath of God' which animated humanity. Furthering the band's climate change conversation Professor Chill explains "some traditions suggest that the old testament name of God, 'Yahweh', which could not be spoken out loud, would actually be sounded through in-breaths & out-breaths. This multi-level understanding of the concept of breath is also reflected in the current awareness of the planet's need for life-giving oxygen as we breathe it in with every breath & in return breathe out the greenhouse gas carbon dioxide".
[ Sarah – voice, darbuka | Mina – Nay, Duduk, Electric Oud, Kawala, Isturitz Vulture Bone Flute (Replica of 30,000 BC instrument) | Rupert – electronics, production ]
Track 5, O Ignis Spiritus [Latin] is a mediaeval chant written by the German Benedictine abbess Saint Hildegarde of Bingen & as such, this version sees a Muslim Sufi woman singing ancient Christian music written by a Christian woman – thus embodying Electric Sufi's mission of bringing traditions & ideologies together in a harmonious & creative way to precipitate solving the biggest issues of the day like climate change & societal division.
Producer Professor Chill explains that by "mixing ancient songs from various cultures with cutting edge recording techniques & our own personal backgrounds, is an expression of what can be achieved in the world when differences are set aside & we all work together. Climate change in particular is the main challenge facing us all & togetherness is a great facilitator for bringing about the change in mindset needed to resolve such a big issue". Utilising tuning based on the Solfeggio Frequencies, an ancient six-tone scale said by some to be incorporated in Gregorian chants & other sacred music, some research suggests that the pitch 528Hz on which the song is centred has healing properties & can help with relaxation.
[ Sarah – voice | Mina – Oud | Rupert – Ebow guitar, electronics, production ]
Track 6, Peera Ho [Urdu] is based on a Sufi poem by the hugely influential 16th Century poet Shah Hussain, who helped establish the Kaafi form of classical Sufi poetry. It features a lyric about 'shackles being broken' & although made popular by Pakistani actor & singer Khalid Anam in 1992, it was the Sain Khawar & Fariha Pervez version for the Coke studios Eid festival that inspired the Electric Sufi version.
[ Sarah – voice | Mina – Qanun | Rupert – electronics, production ]
Track 7, I Need Your Love [English] features lyrics by Professor Chill that are inspired by two texts – one by German abbess St. Hildegarde of Bingen in which she documents her frequent 'visions' & the other by Sufi poet Rumi, that explores issues of beauty, love, loss & perfection. Both texts reflect on loss & the beauty of nature, hence furthering Electric Sufi's commitment to engage in the climate change conversation through their music.
[ Sarah – voice | Mina – Kawala | Rupert – organ, electronics, production ]
Track 8, Saya [Mandinka] is a cover of a song by the highly influential Ghanaian group Ifang Bondi. Also covered by Rafiki Jazz (a version in which all Electric Sufi members were involved in recording), this Electric Sufi version reinvents the song yet again and gives it an underlying electronic flavour.
[ Sarah – voice | Mina – Oud, Qanun | Rupert – piano, electronics, production ]
Track 9, Teri Yaad (Thinking of You) [Urdu] is a ghazal (Sufi poem) written by Islamic poet Krishn Adeeb. It was first covered by Indian singer Jagjit Singh who did much to popularise the singing of ghazals in India, before famous Sufi singer Mahdi Hassan also did a version. However, Electric Sufi's version takes the poem in a totally new direction. Poet Adeeb & his wife later went on to become the most popular singers in this form, as well as writing much music for Indian film. Teri Yaad means 'your memory' in Hindi, 'remember you' in Urdu & was the name of the first film released in Pakistan after it became independent in 1947 – the phrase has many references & meanings.
[ Sarah – voice | Mina – Saz | Rupert – electronics, production ]
Track 10, Wonder of Life [English] with lyrics by Professor Chill, is inspired by Psalm 148 – a verse within the holy books of Islam, Christianity & Judaism that praises God for everything that's been created, seeing humans as part of the web of creation. The song contrasts our human love for the wonder of all life & creation with our treatment of it, by contrasting uplifting lyrics with dark textures.
[ Sarah – voice | Mina – voice, Violin, Qanun, Nay | Rupert – electronics, production ]
Track 11, Hudaaya [Urdu] features traditional Urdu lyrics that have been sung in many different forms & by many people, from children reciting it at school & in scout groups through to Pakistani qawwali singer Nusrat Fateh Ali Khan. It speaks of the revelation of transcendent truth in nature.
[ Sarah – voice | Mina – Duduk | Rupert – electronics, production ]
Track 12, Banda [Urdu] tells of the human & divine experience of love by taking a line from a poem by the Islamic scholar, Sufi & poet Hassan Raza Khan Bareilwi, who died in 1908 & was the younger brother of Imam Ahmed Raza Khan, the main leader of the Ahle Sunnat (Sunni Islam) movement.
[ Sarah – voice | Mina – Nailute | Rupert – piano, electronics, production ]
Track 13, Aval O Aahir (Electric Qawwali) [Urdu] is based on a form of Sufi Qawwali music with lyrics that draw upon a tradition of singing different names to describe Allah, the beginning & the end, the visible & the invisible, the inner & the outer, living & beyond – & as such refers to the two sides of existence, nature & the transcendent – that they are the same & yet different. Many singers & poets have sung or written these words, or variations on them, including Indian Urdu poet & teacher Ismail Merathi (died 1917) whose work is now part of the Pakistani school curriculum.
[ Sarah – voice | Mina – Saz, Udu | Rupert – electronics, production ]
Connect with Electric Sufi