The UK Northern collective reimagine a poem by the Sufi poet Qateel Shifai, incorporating their distinctive mix of traditional & electronic flavours.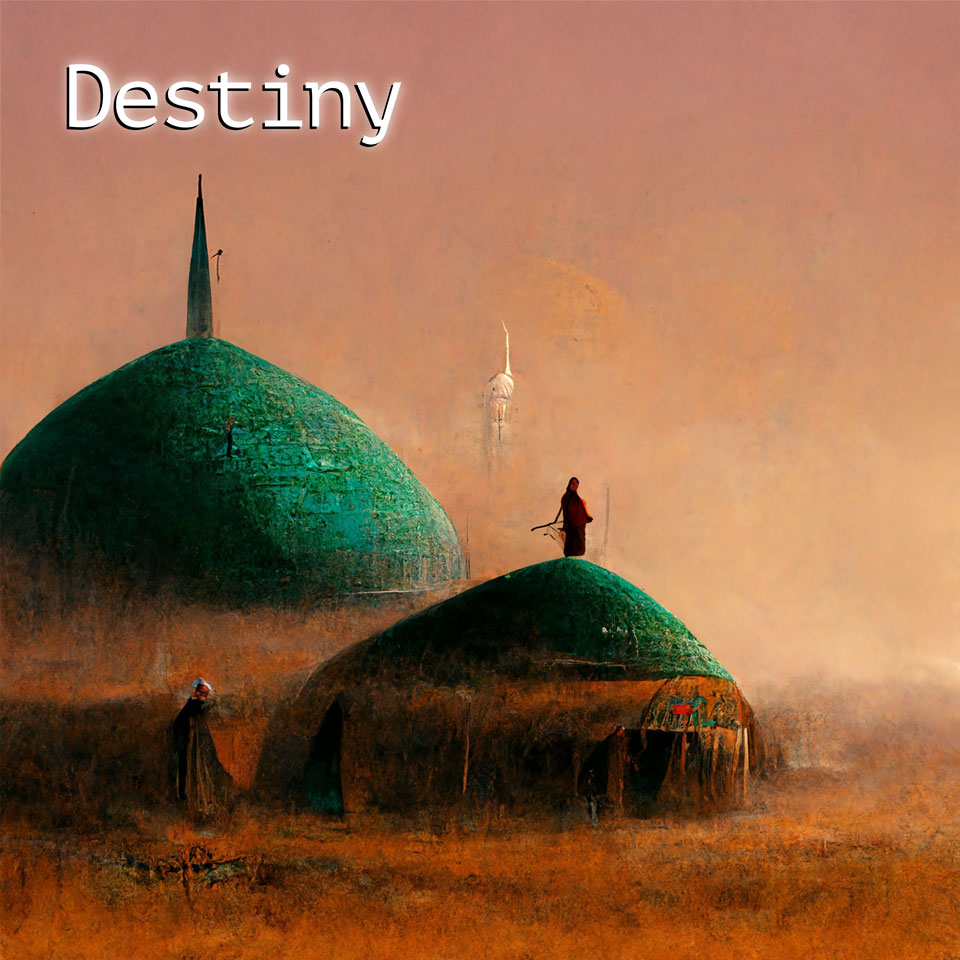 – Out Now | Impact Date 6th July –
Format: Digital Single
Label: CPR
Genre: World, Electronica, Traditional
"So many beautiful elements" BBC Introducing
"Beautiful music with spiritual vocals" – DJ Ritu / Resonance FM
With the release of their debut album imminent, UK world music & electronica fusion trio Electric Sufi release the single Destiny. Following the release of previous singles; the ethereal O Ignis Spiritus, the hypnotic Breathe In Love and the lyrically profound Hudaaya, Destiny continues Electric Sufi's conversation on respect for nature & the natural order of things, in order to raise awareness of climate change issues.
Having enjoyed critical acclaim from Resonance FM & BBC Introducing among others for their previous releases, new single Destiny was originally performed by famous Sufi singer Mehdi Hassan & written by the Sufi poet Qateel Shifai who died in 2001.  Sung in Urdu by vocalist Sarah Yaseen, as with many Sufi songs Destiny points out the significance of love & destiny to humanity, nature & the divine.
This reinterpretation by Electric Sufi retains the original words while re-imaging the melody & musical arrangement. Initially a solo voice, the track evolves under pulsing electronica & features traditional Arabic instruments; the Nay (an Egyptian flute) & Qanun (a plucked zither). The word Qanun means 'law' in Arabic, & probably named so because it's the instrument that lays down the law of pitch for other instruments & singers.
Electric Sufi are Sheffield based Professor of Music & Sound Archaeologist at Huddersfield University Rupert Till, Manchester based singer-songwriter & environmental activist Sarah Yaseen plus Doncaster based multi-instrumentalist / University lecturer Mina Mikhael Salama.
Rupert has produced ambient dance, chillout & electronic music under the moniker Professor Chill including the 2018 album Dub Archaeology. He's also written the book Pop Cult which delves into the mysteries of music & spirituality, participated in the BBC TV series Civilisations, plus written articles in The Quietus, Huffington Post & New Scientist.
Sarah, whose family roots are in Kashmir, is known for singing in Womad favourites Rafiki Jazz & Danish all-woman ensemble Radiant Arcadia. In Electric Sufi she sings in Urdu, Punjabi, Persian, Latin & English. Inspired by Qawwali (Islamic devotional singing from India) & Ghazals (Arabic poetry), she has one foot in the contemporary multicultural world & the other in ancient traditions on which she draws.
Mina, a Coptic Christian from Alexandria, Egypt, came to the UK in 2002 having been a soloist on the Cairo Opera. He's since performed at WOMAD & Edinburgh Festival plus other UK cities. He's also contributed to the BBC TV series Civilisations, demonstrating a 30,000-year-old Isturitz Vulture bone flute, as well as the music score to Disney's Aladdin, directed by Guy Richie & starring Will Smith, Mena Massoud & Naomi Scott.
The trio brings much collectively & individually to the Electric Sufi sound, resulting in a rich tapestry of cultural & musical layers of influence. Destiny expands on their message of hope, so far told by previous singles O Ignis Spiritus, Breathe In Love and Hudaaya, and further shows what's to come on their debut album due to be released this summer.
Connect with Electric Sufi