The UK Northern collective reimagine a much revered Urdu poem on their 3rd single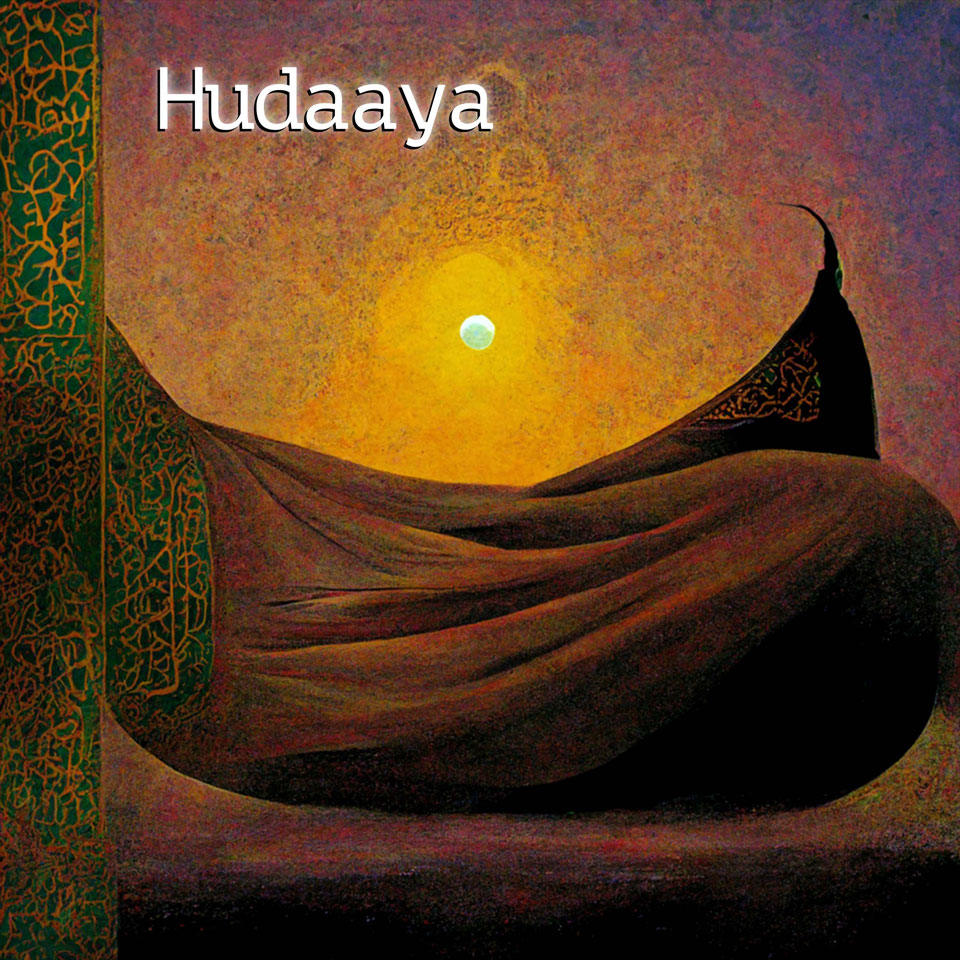 – Out Now | Impact Date: 9th June –
Format: Digital Single
Label: CPR
Genre: World, Electronica, Traditional
"So many beautiful elements" BBC Introducing
"Beautiful music with spiritual vocals" – DJ Ritu / Resonance FM
Following the release of their previous singles, the ethereal O Ignis Spiritus and the hypnotic Breathe In Love, which have enjoyed critical acclaim from Resonance FM and BBC Introducing among others, world music collective Electric Sufi now come with the third single from their upcoming album, Hudaaya – a track featuring traditional Urdu lyrics that speaks about the revelation of transcendental truth in nature.
As with much of Electric Sufi's music, Hudaaya mixes traditional Arabic instrumentation (this time a woodwind instrument: Duduk) with electronic beats to produce a distinctive sound, while vocalist Sarah Yaseen sings ancient Urdu lyrics that have been sung in many forms and by many people, from children reciting it at schools and in scout groups, through to Pakistani qawwali singer Nusrat Fateh Ali Khan. Translated into English, Hudaaya speaks of how the Divine is visible in the Moon and the Stars, while asking for enlightenment on the understanding of all that's around us – and so mirroring Electric Sufi's climate change message of respecting the all-encompassing existence of nature and the need to develop a better understanding of humanity's place within it.
Professor Chill explains: "The issue of healing our collective relationship with nature is the biggest challenge facing humanity. Often, looking back through ancient text, you can reconnect with what is fundamental to life – and by drawing tradition and ideology together, rather than pushing them apart, we're more empowered to overcome the momentous challenge that all of us currently face".
Electric Sufi are Sheffield based Professor of Music & Sound Archaeologist at Huddersfield University Rupert Till, Manchester based singer-songwriter & environmental activist Sarah Yaseen plus Doncaster based multi-instrumentalist / University lecturer Mina Mikhael Salama.
Rupert has produced ambient dance, chillout & electronic music under the moniker Professor Chill including the 2018 album Dub Archaeology. He's also written the book Pop Cult which delves into the mysteries of music & spirituality, participated in the BBC TV series Civilisations, plus written articles in The Quietus, Huffington Post & New Scientist. 
Sarah, whose family roots are in Kashmir, is known for singing in Womad favourites Rafiki Jazz & Danish all-woman ensemble Radiant Arcadia. In Electric Sufi she sings in Urdu, Punjabi, Persian, Latin & English. Inspired by Qawwali (Islamic devotional singing from India) & Ghazals (Arabic poetry), she has one foot in the contemporary multicultural world & the other in ancient traditions on which she draws.
Mina, a Coptic Christian from Alexandria, Egypt, came to the UK in 2002 having been a soloist on the Cairo Opera. He's since performed at WOMAD & Edinburgh Festival plus other UK cities. He's also contributed to the BBC TV series Civilisations, demonstrating a 30,000-year-old Isturitz Vulture bone flute, as well as the music score to Disney's Aladdin, directed by Guy Richie & starring Will Smith, Mena Massoud & Naomi Scott.
The trio brings much collectively & individually to the Electric Sufi sound, resulting in a rich tapestry of cultural & musical layers of influence. Hudaaya expands on their message of hope, so far told by previous singles O Ignis Spiritus and Breathe In Love and is a great exponent of what's to come on their debut album due out later this summer.
Connect with Electric Sufi