The UK Northern collective draws upon ancient mystical traditions to create music that aims to inspire audiences to engage with environmental issues.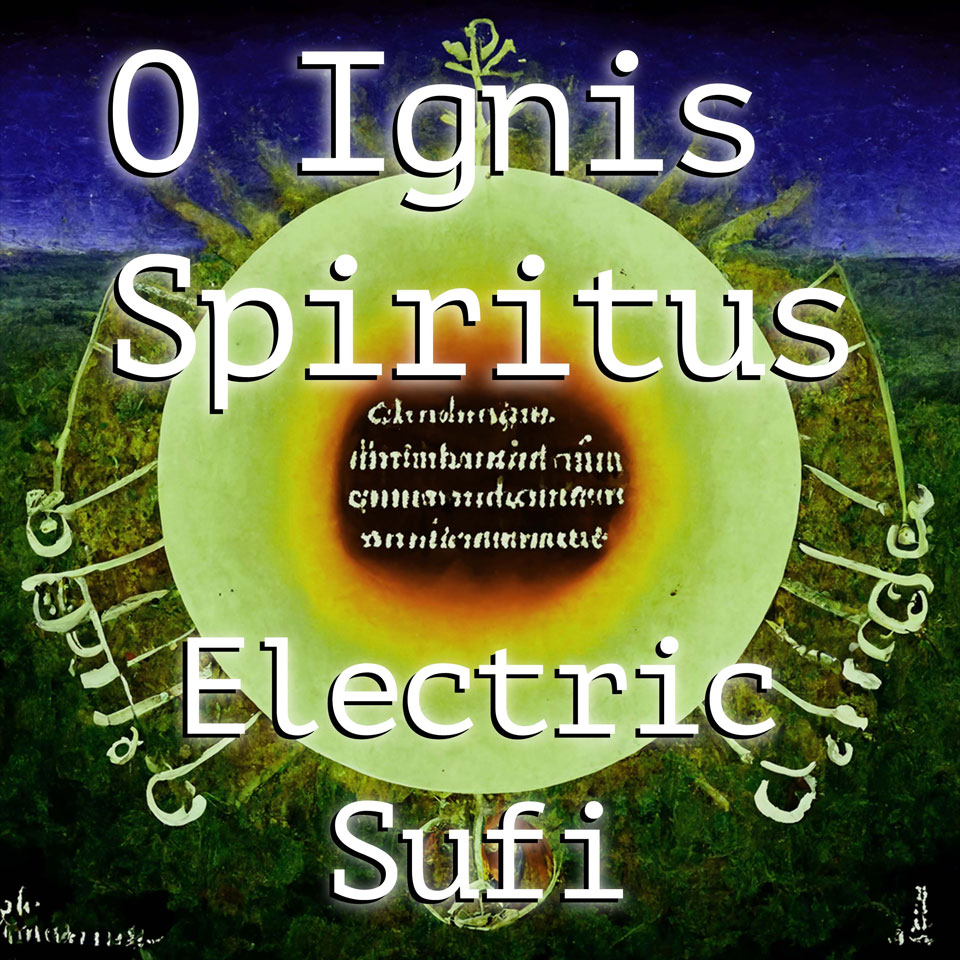 – Out Now | Radio Impact Date: 21st April –
Format: Digital Single
Label: CPR
Genre: World, Electronica, Traditional
Manchester, Sheffield and Doncaster collective Electric Sufi, whose music is inspired by Muslim, Christian and Humanist cosmologies, release the single O Ignis Spiritus ahead of their debut album Breathe In Love, due out early summer 2023.  Blending electronica, Sufi singing and Arabic instrumental virtuosity, the trio aim to promote engagement with climate change issues through their music, drawing traditions together rather than pushing them apart.
With its bed of electronic drones and ebow guitar setting the scene, Electric Sufi's interpretation of O Ignis Spiritus, a mediaeval chant by St. Hildegarde, is a mesmeric performance that sees a Muslim Sufi woman singing ancient Christian music written by a Christian woman. This embodies their mission of bringing traditions and ideologies together in a harmonious and creative way to precipitate solving the biggest issues of the day like climate change and societal division. Producer Rupert Till from the band says of O Ignis Spiritus: "it's a perfect introduction to our sound and what we're looking to achieve. Mixing ancient melodies and song from various cultures with cutting edge recording techniques and our own personal backgrounds is an expression of what can be achieved in the world when differences are set aside and we all work together. Climate change in particular is the main challenge facing us all and togetherness is a great facilitator for bringing about the change in mindset needed to resolve such big issues".
Utilising tuning based on the Solfeggio Frequencies, an ancient six-tone scale said by some to be incorporated in Gregorian chants and other sacred music, some research suggests that the pitch 528Hz on which the song is centred has healing properties and can help with relaxation.
Electric Sufi are Sheffield based Professor of Music and Sound Archaeologist at Huddersfield University Rupert Till, Manchester based singer-songwriter and environmental activist Sarah Yaseen and Nottingham based multi-instrumentalist / University lecturer Mina Mikhael Salama.
Rupert has produced ambient dance, chillout and electronic music under the moniker Professor Chill throughout his career, including the album Dub Archaeology released in 2018. He's also written the book Pop Cult which delves into the mysteries of music and spirituality, participated in the BBC TV series Civilisations as well as numerous other TV and radio shows, plus written articles in The Quietus, Huffington Post and New Scientist. His extensive research projects have been wide and varied, covering a multitude of subjects ranging from 'The influences of Religion on British Club Culture and Electronic Dance music' to 'Sound Archaeology, Acoustics and Cave Art'.
Sarah, whose family roots are in Kashmir, is known in world music circles as a singer in UK Womad favourites Rafiki Jazz and Danish all-woman ensemble Radiant Arcadia. In Electric Sufi she sings in Urdu, Punjabi, Persian, Latin and English – and by doing so, draws upon a wide range of cultural influences. Inspired by Qawwali (Islamic devotional singing from India) and Ghazals (Arabic poetry), she has one foot firmly placed in a contemporary multicultural world and the other in the ancient lyrical and musical traditions on which she draws.
Mina, a Coptic Christian from Alexandria, Egypt, came to the UK in 2002, having been a soloist in the Cairo Opera. He has since performed at WOMAD, Edinburgh Festival, The Southbank, London as well as Cardiff, Leicester, Manchester and beyond. Along with Rupert, Mina has also contributed to the BBC TV series Civilisations where he demonstrated a 30,000-year-old Isturitz Vulture bone flute. On an international level, Mina has contributed to the music score on Disney's Aladdin, directed by Guy Richie and starring Will Smith, Mena Massoud and Naomi Scott.
With a first performance at Bradford's Kala Sangam Arts Centre, which received much applause from a diverse audience, this trio brings much collectively and individually to the Electric Sufi sound, resulting in a rich tapestry of cultural and musical layers of influence that their album Breathe In Love explores in much detail. Their modern interpretation of O Ignis Spiritus is a wonderful introduction to this enchanted world and their message of hope.
Connect with Electric Sufi