The multi-talented pop artist Guy Horne channels his feelings of vulnerability in a romantic situation on 3rd single Broken Before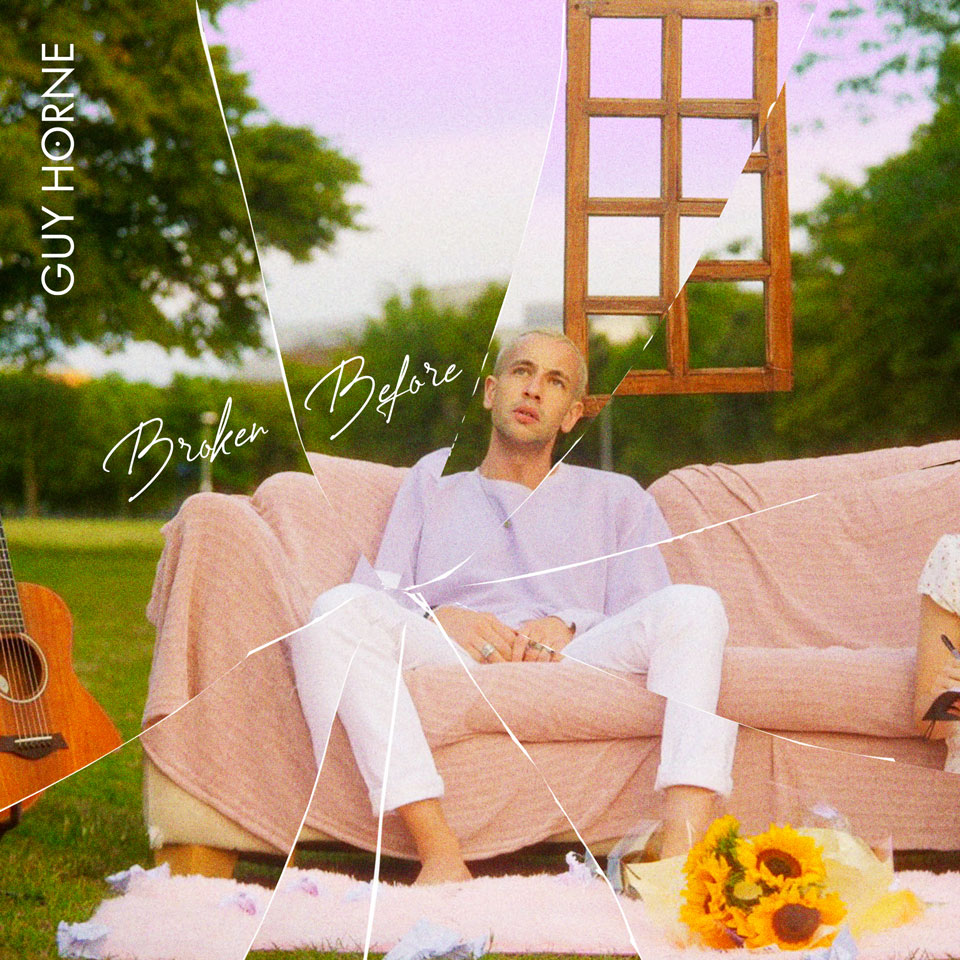 – Rel Date: 27th Sept | Impact date: 27th Oct –
Format: Digital Single
Label: GH Records / LabelWorx
Genre: Pop, Singer-Songwriter
"A huskiness to his vocals that you just can't resist – along with harmony stacks that are bang on!" The Songbird HQ
Following on from previous singles Morning Light & Waiting On You, both of which enjoyed support from BBC Introducing, UK singer-songwriter Guy Horne wears his heart on his sleeve for infectious new single Broken Before – a slice of pure pop that tells a story of vulnerability & moving on in a relationship.
Produced by 2023 Grammy winner Oli Jacobs (Harry Styles, The 1975, Taylor Swift, Charlie XCX, Lana Del Ray) & Ed Graves (Red Bull Music Academy, Maroon 5, Journey), Broken Before takes influence from Jack Johnson & James Arthur in writing style while the colourful acoustic led arrangement compliments Guy's passionate vocal delivery.
Lyrically the song is about the desire to reunite with an ex-partner while acknowledging you've been hurt before. Feelings of vulnerability around any potential pain should things go wrong again, are expressed succinctly in the chorus: "how am I gonna fix what's shattered, who's gonna catch my fall, all my heart's been broken, broken before".
Guy feels the release encapsulates both the ideas of vulnerability & trust saying "the way we perceive the world is a direct result of our experiences. I want to bring forward the idea that it's hard to move on when previous experiences have plagued our past. However, we have to learn to release control & surrender to the natural abundant flow of love that can potentially heal us."
The video, directed by London's X Anima, embodies the message of the song with Guy & his now ex jotting down lyrics & talking about getting back together whilst he contemplates the potential pain if things were to go wrong again.
Born & raised in Manchester, Guy was inspired by the spirit of local luminaries like The Stone Roses & Oasis growing up & they were a key motivating factor in him picking up a guitar & becoming a musician, before taking further inspiration from Jacob Collier & similar artists.
Alongside a burgeoning music career, Guy also used his business acumen to raise significant sums for an affordable housing scheme creating new homes for over 8,000 vulnerable people across the UK and going on to win Young Property Personality of the Year.
As an active participant of the spiritual community, his music embodies themes of love, self-discovery & personal growth & as a result he has performed at spiritual festivals throughout the UK including Medicine Festival & The Wonderment Festival.
Guy spent the early part of this year travelling around South-East Asia, Australia & New Zealand with nothing but a backpack & his guitar, during which time he wrote the music that he's now releasing.
With his songwriting reaching new heights on each release, Guy Horne is a rising pop talent primed for the top & we'd say not to be ignored – but looking at what he's already achieved in his life, seems he won't take no for an answer anyway…