Passionate, energetic & unapologetically Northern wordsmith Jodie Langford gets personal on debut EP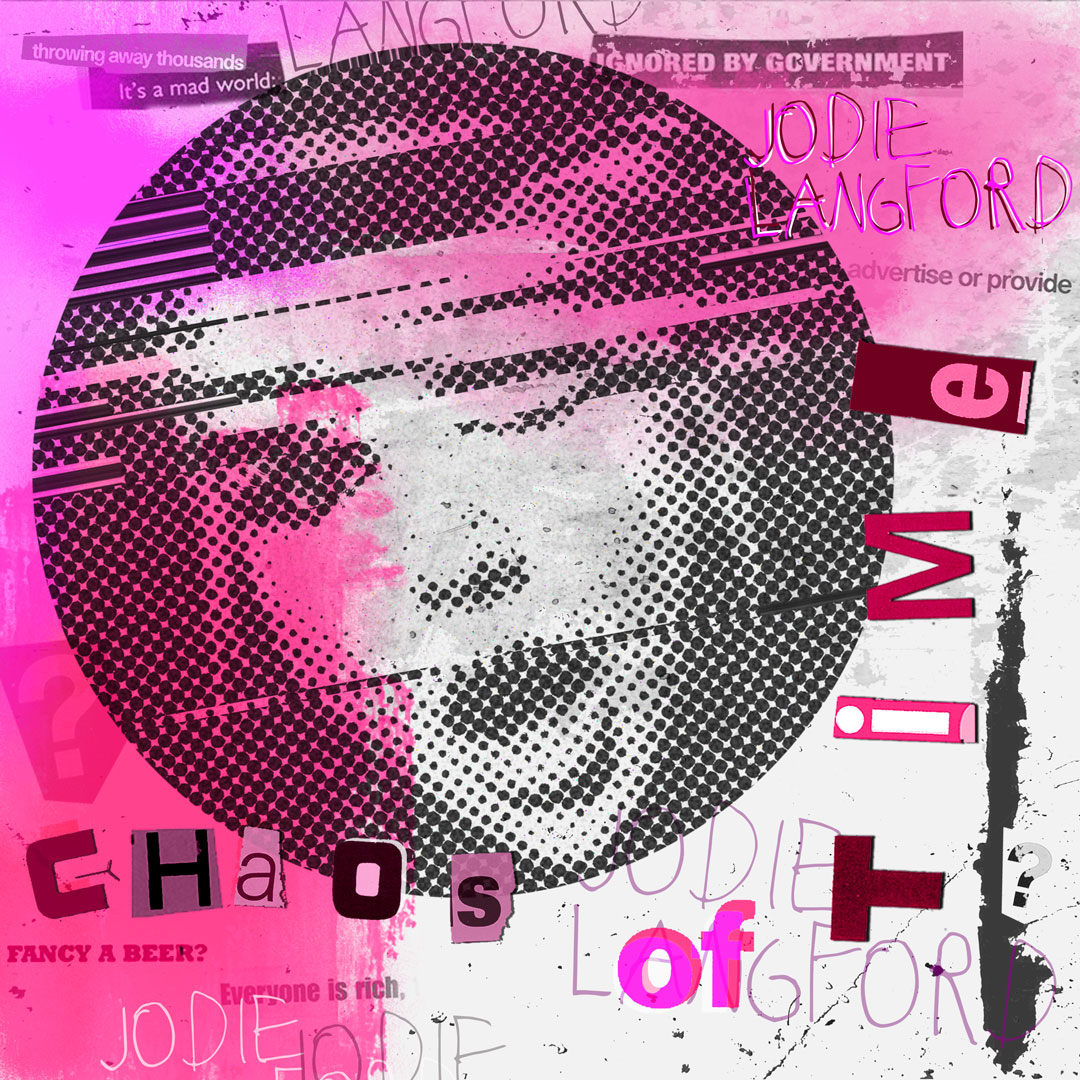 Format: Digital EP
Label: Warren Records
Genre: Alt Pop, Spoken Word, Electro Club
"Watch your back Mike Skinner, word waterfall rapper Jodie Langford is in town" Turn Up The Volume
"Jodie says it in her own special way… excellent stuff" John Kennedy / Radio X
Having built on the success of her debut 'lockdown' release I Miss It, with singles TV Or Not TV, How It Is & Disturbed, Northern wordsmith Jodie Langford kicks off 2023 with her debut EP Chaos Of Time – 6 tracks that explore the complexities of human feelings like obsession, heartbreak, fear, anger, despair & nostalgia, but still have the ability to ignite a dancefloor with instantly catchy hooks.
The EP was produced by Hull's "King of Electro" Endoflevelbaddie – a creative relationship that Jodie describes as an 'absolute dream', citing the producer's ability to transform a simple piece of lyricism into an evocative & theatrical piece of music, as one of their many talents.
Title track Chaos Of Time with its infectious electro-club beat, lyrically encapsulates the state of worry & overthinking we can all trap ourselves in sometimes. "Its incessant nature is inspired by Underworld's Born Slippy" says Jodie "& like the 90s banger, I wanted it to feel like a stream of consciousness with an unsettling undertone to it".
Next up is Heartbroken – inspired by late night drives to the coast with a best mate "We'd sit in the darkness looking out at sea, slagging off boys, listen to cringe-worthy sad songs & bawl our eyes out" says Jodie, "before heading back, we'd look each other in the eye, laugh & then snap out of it. It's about owning your emotions, feeling OK with vulnerability & how that in turn makes you stronger".
Dropping the tempo on Catching X's, Jodie gets personal with a message to her father saying "The song tackles the subject of growing up with a warped sense of what a relationship really entails. I've had a difficult, almost non-existent relationship with my father leaving me feeling unwanted. After years of heartache & reflection, I now know that he does love me & this is a cry for him to prove that".
Next up, the infectious Take Your Money. Initially inspired by M.I.A.'s Paper Planes about Sri Lanka's government oppression of the Tamils, Take Your Money challenges the UK's big decision makers & how they oppress the less fortunate for their own gain through a lyric about defunding of the NHS & how those who can't afford private healthcare are left to suffer.
The mid-tempo, Neighbourhood Watch is a journey of self-awareness & the understanding of your own insecurity. Jodie explains: "It captures how I discovered mankind's blossoming imperfections & why I shouldn't punish myself for not having the same qualities as others, like intelligence, appearance or social skills etc. I can often be my own bully which really messes with the judgement behind some of my life decisions".
To close the EP Jodie's remixed her critically acclaimed debut single I Miss It. Having felt the simplicity & tone of the original was apt for the time when trying to get back on her feet after lockdown, the new version I (Still) Miss It, has more purpose & drive, so enabling her to up the energy at gigs.
Describing herself as unapologetically Northern, passionate wordsmith Jodie Langford began writing & performing at The Warren Youth Centre when she was 16 – but it was after a chance remix by Endoflevelbaddie of her track Wet Newspaper Wishes for the 3 Minute Heroes project, that the 2 began working closely together.
Now writing & performing as a team for the past 2 years, Jodie's presence on stage is totally electric, performing with a furious purpose & always getting the crowd to sing along to her trademark hooks.
Citing Loyle Carner, Keaton Henson, Mac DeMarco, Fontaines DC & Slow Thai as recent points of inspiration, Jodie feels the EP has given her the opportunity to release tracks that come from a much more personal place than her previous output. "They might not be anthems" she says "but they are close to my heart & very special to me. Being released as a collection of songs, I'd like to think they may end up being special to someone else too".
Be sure to follow the phenomenal talent Jodie Langford on her social media for news updates, gig announcements & more – don't miss!
Connect with Jodie Langford