The London alt rock band return with their second album, telling tales of surprise and alarm amidst a backdrop of gentle hush and hard rocking thrash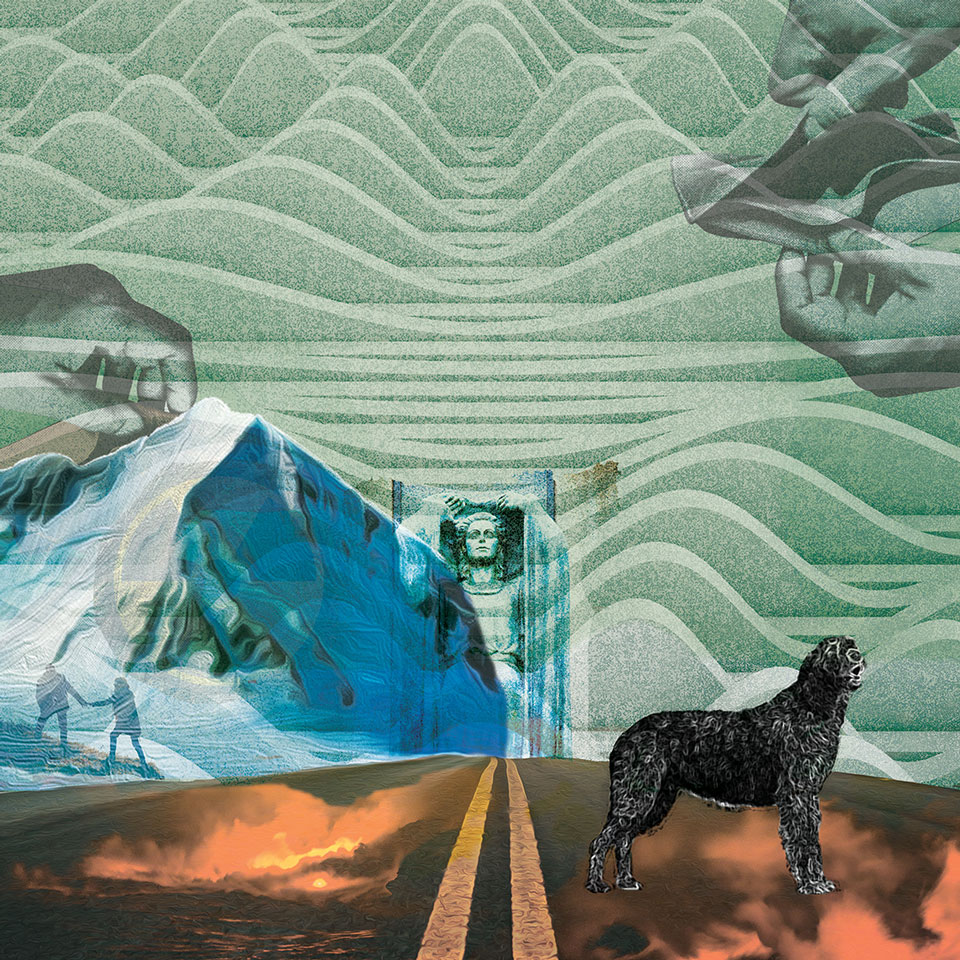 "Smart, sophisticated, and totally unpredictable, this is what progressive music is all about" – Vive Le Rock
"As quicksilver as Spacemen 3, as volatile as Godspeed You! Black Emperor and as hypnotic as Mogwai" – RnR Mag
Following on from their 2021 critically acclaimed debut LP Small Worlds, London based avant-rock band Mount Forel return with their second album Sub Rosa Stories. No less compromising in ambition or sound, Sub Rosa Stories, which translates literally as 'under the rose' & means 'confidential', is an uneasy group of secret symphonic modern tales – each petal that falls from the rose tells a story of chaos & consequence from somewhere in the world.
On the surface, each story sits by itself. However, the connection between the tales isn't so much the people involved, but in how the repercussion from a seemingly small decision can end up affecting people on a much grander scale.
The stories are wide & varied including opening track The Hum, which tells of a deep uneasy low frequency hum being heard at various locations around the world & already enjoying support from Radio X new music guru John Kennedy. Centralia Sceptics Club is about a fire burning under a town since the sixties, while a bunch of the residents just won't leave! Secrets of the World tells a tale of a Russian spy who's swapped for 'Salisbury poisoning' victim Sergei Scripal, only to end up a TV star back in Russia whilst Iceworm is the code-name for an abandoned secret US army base polluting the pristine environment of Greenland (see below for more track details).
Recorded at London's Strongroom Studios with Jake Murray on production duties the album features a bevy of top-flight musicians adding their magic to the Mount Forel sound including cellist Blossom Caldarone (Black Midi), Sam Barton (Teeth of the Sea) plus Gail and Aden from For Breakfast on flute and alto sax.
Drummer Andrew Wakatsuki says of the album "after lockdown it was good to get back in the studio & cut tracks we'd been developing around a collection of such fascinating stories. Since the enforced isolation, there's a fresh urgency & enthusiasm to our sound that the album represents well & we can't wait to play them live, some for the first time, over the coming months".
With a reputation for interdisciplinary gigs where audiences are invited to wear blindfolds to enhance the aural experience or paint freely while listening to the band, Mount Forel have grown up living in many cities around the world including Denver/Colorado, Dunedin/New Zealand, Osaka & Tokyo / Japan, Derry/Northern Ireland, Manchester & The Wirral. This wide range of cultural influences is reflected in their songwriting with references to global issues like climate change, populist politics & societal imbalance. Featuring Ross Thompson (Lead Vocals, Guitar), Takaco Iida (Bass, BVs), Pete Garner (Guitar, Keys) and Andrew Wakatsuki-Robinson (Drums & toys), the band's musical influences stretch far & wide to include post rockers Mogwai & 90s grunge, through to experimental avant-pop Japanese indie bands like Toe, plus 70s psychedelia, Radiohead, Calexico, Efterklang & Hendrix. After meeting under an apple tree in London, they collectively decided to become a multicultural rock band rather than selling cider… and so the story began!
With new gigs being added to their upcoming live schedule be sure to follow Mount Forel on their social media for latest updates – go easy people!
TRACK DESCRIPTIONS
The Hum
There's a deep uneasy low frequency hum being heard around the world! In Bristol for instance, it appears and then it goes – some hear it, some don't, some ask "is it even real?" There's even a worldwide database logging these occurrences. Explanations are many and varied but no overarching consensus has been established as yet.
To Hell with You All
Defund and scrap has been the ethos of the powers in the UK for a while now with important public bodies being told "do more with less" year on year which is directly affecting the general public. We're now hitting a crunch point where important work isn't getting done, resulting in necessary systems and safety nets being defunded and scrapped. The 'haves' in government seem to be pulling up the ladder with the end point being either mutual destruction or either the 'haves' or the 'have nots' wiping the other out.
The Hound
The Hound of Culaan is a warrior hero in the Ulster Cycle of Irish mythology as well as in Scottish and Manx folklore. Born Sétanta, he gained his better-known name 'The Hound of Culaan' as a child, after killing the Irish mythological character Culann's fierce guard dog in self-defence and offering to take its place in defending Ulster from its enemies until a replacement could be reared.
Secrets of the World
In 2001 a Russian spy who hung around with oligarchs and high flyers in the city of London, seduced a boy at a rave in the Docklands. She then dumps him when she qualifies for a UK passport and it's suspected that she (or people she fraternised with) had a hand in his death a few years later. She then moves to New York where she mixes with the upper class there too and was found to be a sleeper agent for the Kremlin. Having been arrested in 2010 she was then traded for Skripal (of Salisbury poisoning fame) that same year, before going on to become a model and TV star in Russia.
Centralia Sceptics Club
There's a fire that's been burning under the town of Centralia, Pennsylvania for over 50 years and may continue for many years to come! It started as a tyre fire before spreading to the coal mine underneath the town. Centralia used to be a town of 1,200 people but only a few are now left and, although there are toxic fumes & smoke coming from cracks in the ground, the last few refused to leave, even though the local government have offered to rehouse them, suspicious that the authority's offer was so they could steal their coal!
Rosewater
In the 1970s a couple of people went missing in Iceland. A murder investigation was then started and a German 'super-cop' was brought over to solve the case. Various suspects were drugged, tortured and kept in solitary confinement until six confessed and were convicted of murder. It's thought that they suffered from 'memory distrust syndrome' and after all that, it's suspected that the missing people just wandered out into the mountains!
Iceworm
Iceworm is the codename for a project where a secret US army base 'Camp Century' was built into a Greenlandic glacier. Since being decommissioned in 1967, climate change has been melting the ice away and the base is now exposed! Once an ice camp for experiments and a proposed site for launching nuclear weapons in the cold war, it was supposed to be forgotten, buried forever in the ice where no one would go – but the melting ice is exposing more and more hazardous biological and radioactive waste every month, destroying the surrounding pristine ecosystem of untouched Greenland.
Social Media (Mount Forel)