Post Pub Kebab Shop Glam Rock from SE London with true story about a failing relationship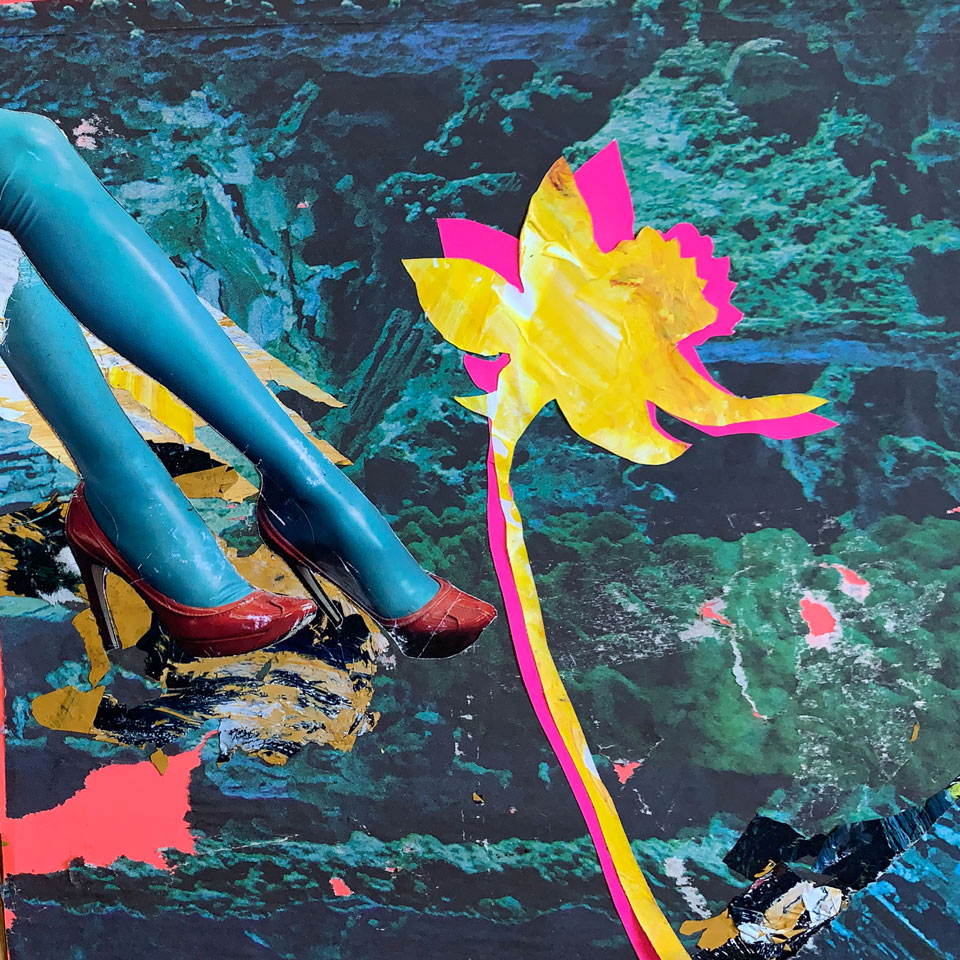 – Impact Date: 26th May –
Format: Digital Single & Limited Run Vinyl
Label: Scratchy Records
Genre: New Wave, POP, indie
Live Dates
May 27th – Railway Tavern – Tulse Hill / London
June 9th – The Night Owl – Finsbury Park / London
June 22nd – Strummerville (headline) – Glastonbury Festival
"A cool sound!" Gordon Raphael (Strokes producer)
"Cracking little sing-along, perfect for a right royal knees-up down your local boozer" God Is In The TV
"It's irresistible! The 'Feeling Sorry For Yourself' hit of the spring" Louder Than War
"An inspired lyric, a really moving song.. I loved it" 9/10 Johnny Lloyd (Tribes) on BBC6 Roundtable
"Ian Dury meets The Clash.. love the arrangement & great lyrics…" 9/10 David Holmes on BBC6 Roundtable
Having won the support of BBC 6Music's Steve Lamacq on their previous single British Beef, after a chance meeting at last year's Glastonbury Festival, South East London's self-proclaimed 'Alcoholic Sons of Satan' SLEAZE are back with their new single Daffodils, this time with local indie label Scratchy Records onboard.
Described by Scratchy's Simon Bromide as "like The Clash mugging Jarvis down some Sheffield back alley or The Libertines covering Je T'Aime", Daffodils is a true story about a failing relationship says writer & lead vocalist Dave Ashby, who's half-heartedly trying to save the situation with some stale flowers whilst tranquilising himself using whatever poison his demons care to offer up.
Produced by Paul of Sound & SLEAZE, this indie pop future classic kicks off with an infectious Farfisa style organ that immediately draws you in before a tale of apathetic love, symbolised by some out of date blooms, spells out the writing on the wall – and just to top it all, his mother will probably faint when she finds out!
"Daffodils is our first release with the support of a label" says Dave "& it's been a journey out of struggle for a band that nearly went down during COVID were it not for our supporters urging us to play again. A mental block around releasing material lifted last year after we put out British Beef as a very limited vinyl run & then a similar run with Lights Out later that year. Bumping into Scratchy's Simon then led to a chain of events which brought us to here".
With a video directed by Rob Hawkins (Fat White Family, Crystal Castles, The Big Pink) that features a whole heap of Dave's drawings in a field with a shopping trolley, Daffodils looks set to do the business as it goes out into the world.
Describing themselves as 'Post Pub Kebab Shop Glam Rock from SE London', SLEAZE are David Ashby (vocals), Bede Trillo (bass), Jack Fussey (guitar), Al Grumble (keys) & Phil Lloyd (drums). With influences ranging from Waylon Jennings to Warren Zevon via Nick Lowe, David Bowie & Marc Bolan plus visual splashes of Hockney & Steadman in there too, SLEAZE came together naturally & hitting their stride after lockdown made their writing more about the song, rather than the racket a band can make in a sweaty venue. Combining ballads with a punk backing has created a unique sound – think 'Pop music distorted though photocopiers & analogue lenses.
With live appearances at Brixton's Windmill, The Bimble Inn, Port Eliot, Beautiful Days (Exeter) & Glastonbury's Strummerville, the band have been winning over new fans in droves, while their songwriting talents have led to the co-writing of Bobby's Boyfriend on Fat White Family's Serfs Up album & Florence Welch covering Dave's song Girl With One Eye from his previous band The Ludes on her album Lungs.
For the release of Daffodils the band will be celebrating with an Instore at Brixton's Dash The Henge (Sat 1st Apr) plus gigs at Dream Bags Jaguar Shoes (14h Apr) and The Windmill (date tbc). Be sure to follow this must-see band on their socials to watch them blossom as the year unfolds!