Tales of fear and loathing in darkest South London as UK garage rockers unleash their latest album Night Terrors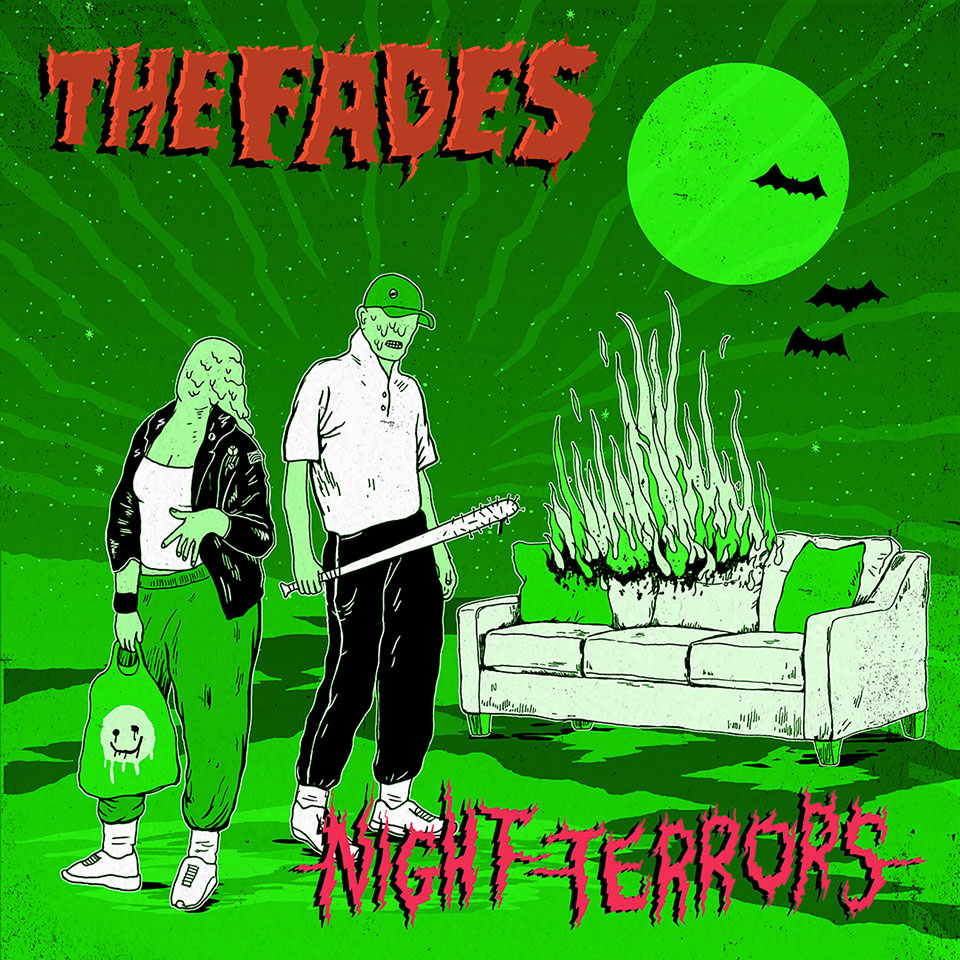 – Out Now –
Key Tracks: You Follow Me Around, Lost My Job
"The ridiculously infectious Fades"  John Kennedy / Radio X
"It's like someone fired a surf-punk into the sun at warp speed while a heavenly choir rejoices in the shredding with their beatific aaaahs"  Fresh On the Net
South London post punks The Fades are back with their new album Night Terrors – a bunch of garage-rock future classics written during and after lockdown, that pack a punch and capture the sometimes manic and sometimes reflectively inspiring nature of modern life! With DJs like Steve Lamacq, John Kennedy & Marc Riley supporting various releases & glowing write ups in Louder Than War, Fresh on The Net & alike throughout their career, The Fades are a band who've consistently turned adversity to their advantage, finding the best in life while not taking themselves too seriously.
Available in eye catching green vinyl in a gatefold sleeve with distinctive artwork by London artist Jimp, Night Terrors includes the singles You Follow Me Around & Lost My Job which have enjoyed support & coverage from Radio X, Vive Le Rock and a whole heap of other specialist rock shows & guitar loving blogs. It was recorded at Brixton Hill Studios, around the corner from South London music mecca The Windmill and was produced by Stephen Gilchrist known also for being the drummer in Graham Coxon's band.
Opening track on the album is Time Is Right – a straight ahead instrumental punk jam that sees the band gushing with joy at being able to play live in a room together again after being locked down for so long. As the title says… the time is right to move forward & get on with living again!
Next up is the recent single You Follow Me Around – a raucous indie post-punk blast of alternative pop, recalling the time when lead-singer Dave Lightfoot was stalked by both an ex-partner & his own cat clambering for affection at home – a sort of dual experience of enforced attention from very different sources. The tempo then drops on The Pessimist which lyrically plays on the album title's theme of things that can sometimes haunt us all in the middle of the night complete with ghoulish guitar feedback and Sabbath-esque guitar throughout.
Drives Me On is a track about friends who help you get out of a rut, while the other single on the album Lost My Job is based on a real-life situation and having to deal with selling your stuff on Ebay to make it through!
Following on is People In General with its tale of two halves in which you come to realise that although 'people in general' can frustrate you, they can also be quite wonderful at times. Having kicked off with a stomping guitar riff the track breaks down half way through into a psychedelic monologue by Les 'Fruitbat' Carter from Carter USM no less!
Title track Night Terrors with its rolling guitar riff takes a more long-term approach as section by section it builds to a psychedelic climax like when you finally drift off to sleep and your thoughts escape you!
Known It All Along continues the theme of anxiety & paranoia, mistrusting people's intentions and TeleVision takes the listener on a long and winding instrumental journey before a lyric about letting go of all the bullshit in your life comes to carry you to a discordant end. Closing track Wake Up Generation finishes the album on a more light-hearted & positive theme around not thinking your life away but enjoying the moment before it's too late.
Now a bit of history… in true punk DIY style, The Fades recorded their debut single above a chip-shop on the Staines Road in West London. It was quickly picked up by Steve Lamacq who played it on national radio & soon a buzz was building around the band. Then explosive gigs with bands like Ocean Colour Scene, Bloc Party, The Mystery Jets & German rockers Art Brut gained them a reputation for raucous mayhem, including a penchant for multi-band clothes swapping on stage! Next up, US indie label Cranky Girl Records arranged for an East Coast tour of the States alongside some American releases, which all culminated in a whirlwind of gigs, parties & scintillating scotoma!
Buoyed on by a new-found enthusiasm when they sold out of their 2020 vinyl album Ragnarok & embracing the 'new reality' of working from home during lockdown with many a remote writing session, the band went back into the studio to do it all again and thus Night Terrors was born.
Following an appearance at this summer's Guilfest & a sold out night at Putney's Half Moon in August, The Fades are excited to play Camden's Dublin Castle on 26th October and celebrate the release of the album. In the area? Come join… after all you don't wanna miss the party do you!