O'Reilly & Vincent
SONGWRITING DUO CREATE STORIES THROUGH MUSIC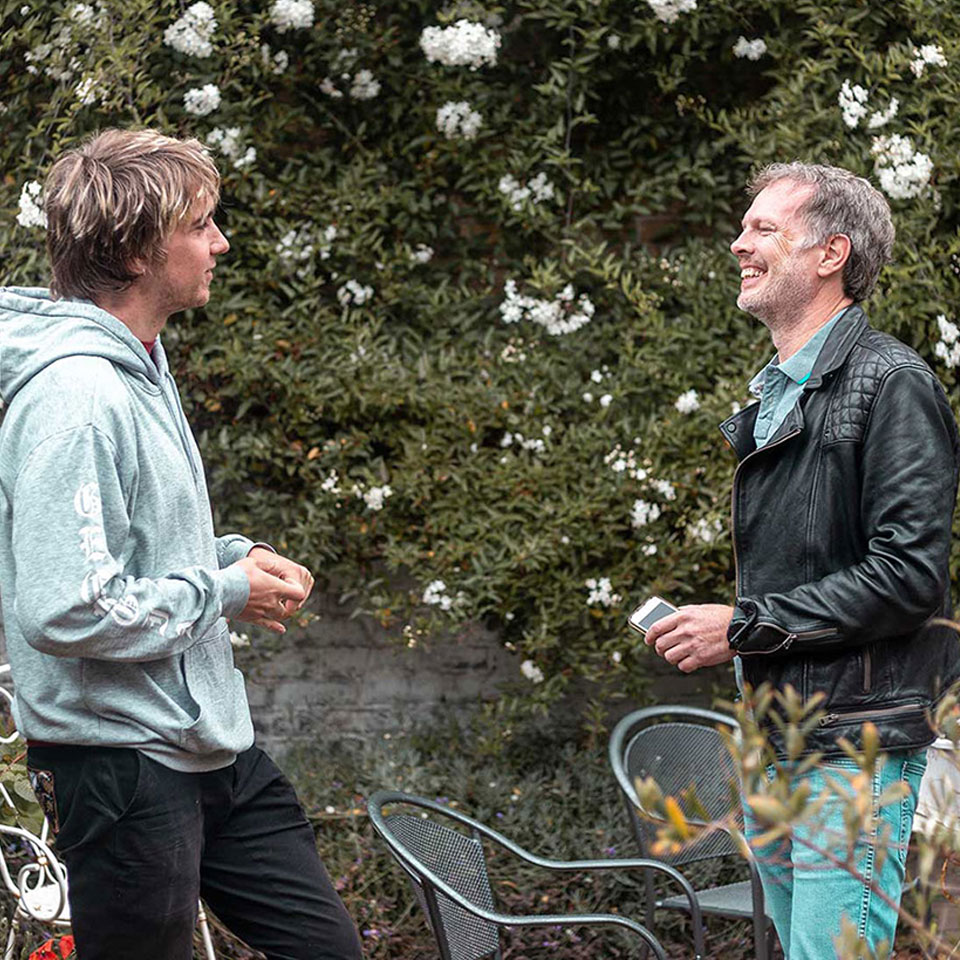 Testimonials

We like O'Reilly & Vincent – they're very very good indeed
O'Reilly & Vincent have a little something for everyone
In such a short time they've already got an impressive buzz going with the tastemakers
Dublin musician Finn O'Reilly and Shropshire poet Rod Vincent come together as the recently formed songwriting duo O'Reilly & Vincent to release the second single from their forthcoming album Clearance Sale.
The song tells the story of Anna, who was "picking apples on the farm" and spent her "afternoons on Ripple Bay", and the hapless singer still yearning for her long after she has moved on "to Vietnam, or Laos, or Cambodia." It's a tale of obsessive infatuation, the sort of gap-year romance that has to end but leaves an indelible memory. The lover pines about how he "needed her first thing in the morning, to see the endless sky sloping down to where the fishing boats put out their lights." But "Anna had no weaknesses, no need", and in the end she is the independent free-spirit who would inevitably fly off to new adventures.
The melody bounces along to a gentle surf-rock beat with a foot-tapping bass line and a haunting guitar solo. It builds to a pulsing bridge that expresses the singer's self-indulgent sense of loss when Anna finally leaves him to "steal into the apple fields of the morning."
The video for this song, shot on location in the apple fields of Catalonia can be previewed at: https://youtu.be/4DdIqcxwBqw The story of the shooting of that video is on their website: https://www.oreillyandvincent.com/shooting-video-anna-and-the-apple/
Finn's favourite song from his favourite band, The Grateful Dead, is called Ripple. This made it a moment of magical serendipity when he found the lyric about "Ripple Bay" that Rod wrote years before he met Finn or heard The Grateful Dead's music.
Lyricist Rod Vincent grew up in London but his greatest literary passions were Irish. Of Irish descent (like Finn), Rod read at last year's Dublin International Literary Festival as one of the Poetry Ireland Introductions Poets. His work is published in the Iron Book of New Humorous Verse plus numerous other UK and Irish literary publications.
Finn O'Reilly discovered music young, learning cello at the age of five. He went on to learn piano and guitar and won a musical scholarship. He has released material under the solo guise of The Finnjamins including the track You Mean Nothing To Me.
Finn and Rod formed O'Reilly & Vincent last spring out of a completely unplanned flurry of creativity in a single weekend when Finn started to sing some of Rod words. Rod's verse and Finn's music poured out a body of work that has now become their debut album.
They have recently started playing the songs live in the build-up to the album release.